Mayi's mobile lift tables provide substantial benefits to the automotive industry. For instance, lift tables are very helpful for a mechanic. Whether you are working on tires or servicing a vehicle's engine, lift tables allow workers to easily access hard to reach areas and move heavy components with ease, reducing the risk of injury and improving morale.
Lift tables and tuggers are also useful in automotive assembly and manufacturing plants. Mayi Industries will work closely with your team to help develop integrated automated material handling systems, increasing efficiency and precision, allowing your company to allocate manpower more effectively.
Scissor Lift Tables offer Advantages over Conventional Forklifts
Use Case for Lift Products

in an Automotive Facility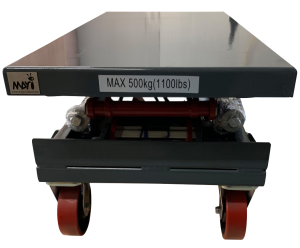 Like many big cities, real estate in Toronto is limited and space is a valuable commodity. A successful body shop in Toronto was using a forklift to lift and lower engines and other heavy parts off vehicles being repaired. Business was doing well and the body shop was bustling with employees, trying to get their jobs done. However, their forklift was taking up a significant amount of space and was becoming a liability due to the space and attention needed to safely operate. Basically, when the forklift was used, every other function in the bodyshop had to stop to make sure nobody got hurt by accident while the materials were being moved. They approached Mayi, looking for a better material handling solution.
After working with their team to understand their workflow, we recommended an ESM91D mobile lift table . It is capable of lifting over 2,000 lbs, has a large enough platform to safely accommodate an engine and tools, eliminating the need for a forklift, and improving ergonomics for employees through reduced manual transportation of heavy components. Mayi's ESM91D mobile lift table allowed them to increase efficiency while reducing the risk of injury.